Sample Wiring Diagram:
Home Theater – Monitor
Last updated 4/5/2006
---
Your receiver is also going to be outputting video data to your TV in most cases. This means connecting the monitor video output(s) of the receiver to the input(s) on the TV. With that in mind, we'll take a look at the various ways that a TV might be connected to a receiver.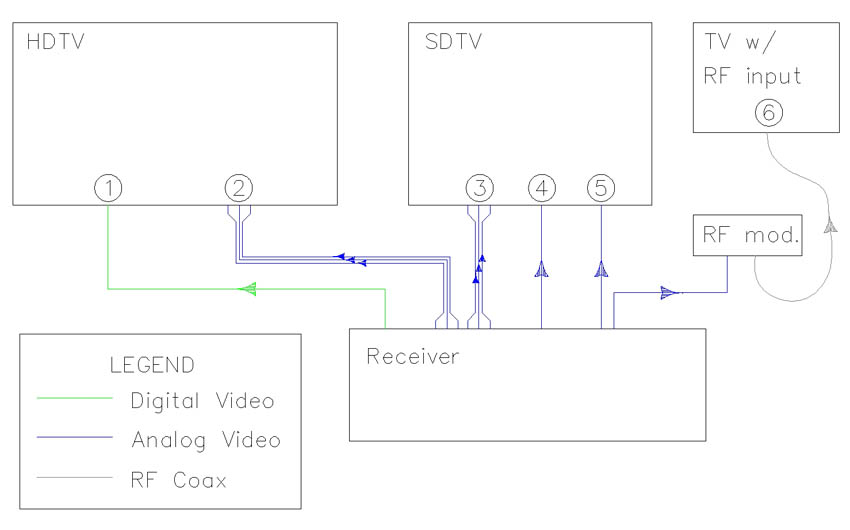 There are three scenarios in this diagram: HDTV, SDTV with video inputs, and SDTV with RF input only. We'll start with the HDTV.

HDTV: Connection (1) is a DVI or HDMI digital video cable from the receiver to the TV. Make this connection if you have a DVI or HDMI input, your receiver offers switching for either format (since the two are interchangeable, it doesn't matter if the receiver has DVI switching and the TV has an HDMI input), and you have or plan to have more than one DVI/HDMI source. Connection (2) is a component video connection (three cables). Make this connection – the only reason to skip this one is if your receiver transcodes analog video to the digital output (DVI or HDMI) and you have a DVI/HDMI input on the TV. The diagram doesn't show connecting s-video or composite analog video. You would only need to make this connection if your receiver does not offer video transcoding from composite/s-video to component and you have composite or s-video sources.

SDTV: Connection (3) is a component video connection (three cables), which you should make if your SDTV has a component input and your receiver offers component video switching. Many SDTV's (especially older units) don't have a component video input, in which case you will want to skip this and move on to the next connections. Connection (4) is an s-video cable. Make this connection if your TV lacks a component input or if your receiver does not offer transcoding from s-video to component. Some TV's will not offer an s-video input, either, which takes us to connection (5): a composite video cable. This is the video connection of last resort. Use it only if you don't have a better input or if your receiver lacks any transcoding of composite inputs up to s-video or component video.

SDTV with RF input: This is going to be extremely rare in a home theater system today – a monitor that lacks any analog video inputs. Connection (6) is a composite cable connected to an RF modulator, with a coaxial cable run from there to the TV's antenna input.



---
---
[an error occurred while processing this directive] hits since August 12, 2002