Sample Wiring Diagram:
Home Theater – DVD
Last updated 4/5/2006
---
Any home theater these days will have a DVD player in it. That player may also support DVD-Audio and/or SACD discs and may offer progressive scan or upsampled video output. Getting the player connected properly is a crucial step.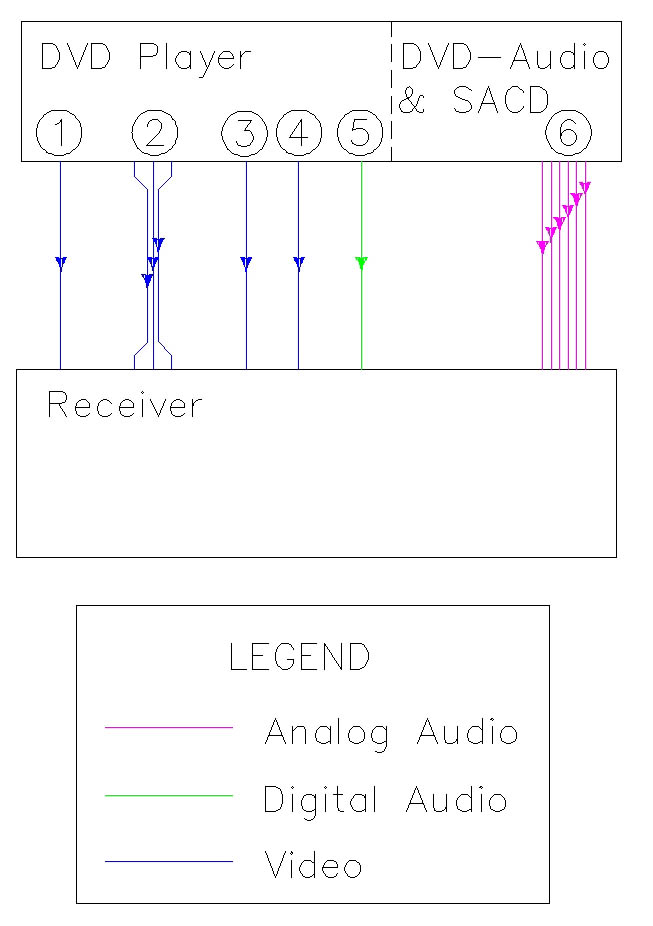 Since a DVD player can offer a number of different capabilities, we're going to approach this in stages. First, there's the video output – we have five to choose from, but you only need to connect one of them. Upscaling DVD players typically only output the upscaled video over a DVI or HDMI connection, as shown in connection (1). This assumes that the receiver has DVI/HDMI switching or full-blown HDMI support. If it doesn't, you'll either connect straight to the TV or through a separate switcher (such as those offered by Gefen). If your TV lacks a DVI or HDMI input, you'll be unable to get 720p or 1080i video from most upscaling DVD players. Connection (2) is a component video connection (three cables) and can be either interlaced (480i) or progressive scan (480p), although you'll need a TV that can accept a 480p signal to use a progressive scan output. If your TV lacks a component video connection entirely but does offer an s-video input, you'll want to use s-video (connection (4)). Lastly, a TV with only composite video or RF input will need to use the composite video output shown in connection (5).

Once you get the video hooked up, you'll need to connect some audio. Since you've got a surround receiver, you have a digital audio input available. That means that you want to use either a coaxial or optical digital output from the DVD player to the receiver, as shown in connection (6). The stereo analog output (shown in the DVD+TV and DVD/VCR+TV diagrams) is not needed in a system like this and is therefore not shown here. If you have a player that support DVD-Audio, SACD, or both formats and you plan to make use of that support, you will need to set up connection (7) – the multichannel analog output – in addition to the digital audio. You'll only use the multichannel analog output for DVD-Audio or SACD.



---
---
[an error occurred while processing this directive] hits since April 5, 2006