Sample Wiring Diagram:
Home Theater – HD-DVD/Blu-ray
Last updated 4/5/2006
---
The HD format war has introduced us to two very similar new players – HD-DVD and Blu-ray. Since they are new technology (not to mention well-stocked with encrpytion and other copy protection rigamorale), it's probably worthwhile to explain how to hook them up.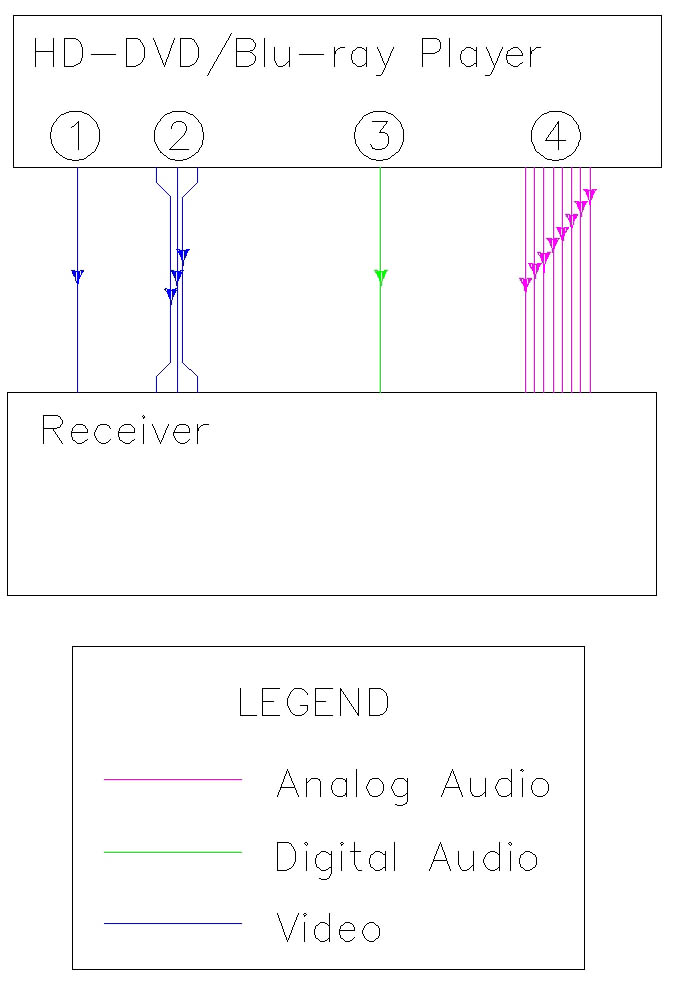 HD-DVD and Blu-ray are newcomers, and as a result their requirements may exceed the capabilities of older hardware. First case in point: video output. The sure-fire way to always get the full resolution video from either format is to use connection (1) to feed digital video via HDMI to your HDTV; if your receiver offers DVI or HDMI switching, you may want to use it, but in many cases you'll either need to run straight to the TV or use a switch box. Use this connection if your HDTV offers either DVI or HDMI input. Connection (2) uses analog component video cables to feed video through the receiver and on to the TV, but the copy protection system used by both formats allows studios to activate a security flag on any disc that will restrict analog video output to 540 lines (quarter the resolution of the 1080i or 1080p video stored on the disc). Use component video only if you can't use the HDMI output. HD disc players will typically also offer composite and s-video outputs, but I don't recommend using them under normal circumstances.

Our audio output may also give existing hardware a headache. The optimal arrangement is to use the same connection (1) that we showed for digital video to deliver digital audio to your receiver. It's going to be at least a year or so before HDMI audio support is readily available on receivers, however, so most people are going to be using their HDMI outputs for video input at first. You can use connection (3) to deliver digital audio to your receiver over the same coaxial or optical cable we used for the DVD player, but that is going to restrict you to the existing audio formats (Dolby Digital, DTS, or stereo PCM). To get the new audio formats without an HDMI audio connection, you'll want to look to connection (4) and run a multichannel analog connection of six or eight analog audio cables.



---
---
[an error occurred while processing this directive] hits since April 5, 2006